Phoenix Building Components Roof Systems are widely used in Single and Multi-Family Residential, Institutional, Commercial and Agricultural construction. All of our engineered Roof System options ensure considerably less onsite waste and a more efficient job site than a traditional stick framed build. Let us help bring your plans to life, with creative solutions no matter the complexity of your idea, we can help make it happen. Detailed information about Phoenix Roof Systems are listed below.
Manufacturing:
Custom Roof Trusses
Stock Roof Trusses
Distribution:
Computer automated saws with automated part cutting and labelling for accurate pre-cutting of materials
Computer automated jigging increases setup time and ensures a precise consistent product
Laser guided framing projection for quality and accuracy
4/12 and 5/12 pitch common trusses with trimmable 24" overhang
Spans from 12' – 32' (in 2' increments)
Dropped and Full gables to match
Pre-built gable end ladder sets for dropped gables
Trusses are Pre-Engineered with a 71lb ground snow load for use in almost anywhere in Ontario
Fast convenient solution for simple projects including sheds, garages, small barns and additions
Don't wait weeks for custom trusses, get stock trusses in 5-7 business days and get your project done
PRI-40 – 9-1/2", 11-7/8", 14", and 16" depths
PRI-60 – 9-1/2", 11-7/8", 14", and 16" depths
PRI-80 – 9-1/2", 11-7/8", 14", 16", 18", 20", 22", 24" depths
Design and span capabilities comply with APA-ADI rating standards
Supplied in 2' increments up to lengths of 52'
Standard accessory products to complete roof system included
– Beams (LVL, PSL, Glulam) around openings
– Mechanical connections where required (Hangers)
Optional accessory products to elevate your design solution
– Heavy duty jack posts and column caps
– LVL and PSL posts
– Structural screws (Flat-Lok) for easy beam laminations
Easy to handle, lighter weight per foot compared to conventional lumber
Longer clear spans allow greater design flexibility and reduced number of bearing walls
Larger nailing surface speeds up sheathing installation
Greater depth possibilities for enhanced insulation and ventilation performance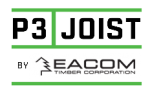 Structural Insulated Panels
SIP:
Made of exterior layers of 7/16" OSB skins with EPS foam core.
Panel thickness – 8-1/4", 9-1/4", and 11-1/4"
Made to work with dimensional lumber (fits between exterior skins)
Panel sizes 4'x8' up to 8'x24' (jumbo panels)
CNC cut package provides "pre-cut ready to assemble panels"
Panels designed and pre-cut to fit in place including bevels at ridge lines,
hips and valleys
All accessories required for assembly are provided:
– Insulated connection splines
– Spray foam
– Adhesive
– Screws
– Seam Tape
Panels treated with borate to protect against fungus and insects
Custom Engineer stamped layouts and details for building permit application
Up to 8x more airtight than conventional framing reducing heat loss
Energy use reductions of up to 50%
Utility bill cost savings of 50-80%
CNC cut package has almost zero site waste
Reduce on site framing time but up to 50%
R-values meet or exceed min. code requirements for cathedral ceilings
Great compliment to close-in Timber Frame roof systems
Heavy Timber
Timber Frame:
Canadian Timberframes Limited 
Structurlam
Materials – Solid Sawn Timber, Glulam, and Parallam (PSL)
Appearance grade and Structural grade
Wide variety of sizes and custom curved shapes
Custom Engineer stamped layouts and details for building permit application
Stronger and more durable
Structural and Architectural solution all in one
No other load bearing walls allows for increased design flexibility
Less jobsite waste
Increased fire protection
Uses less lumber than tradition stick framing reducing environmental impact
Increase energy efficiency when using SIPs as insulation
Our products are sold through Retail Building Supply partners throughout Ontario and the Northeast US. If you can't find a provider nearby, give us a call and we'll work to bring our products closer to you!