Phoenix Building Components recognizes that prefabricated building is more advantageous than ever. With labour shortages, fluctuating material costs and time restraints to consider producing components in a controlled environment is far more advantageous than traditional stick builds. Phoenix Wall Systems are accurately designed to ensure quick and easy assembly on site. Take advantage of reduced labor costs and complete more homes in less time with less skilled labor on site. Find detailed information for our Wall Systems below.
Manufacturing:
Distribution: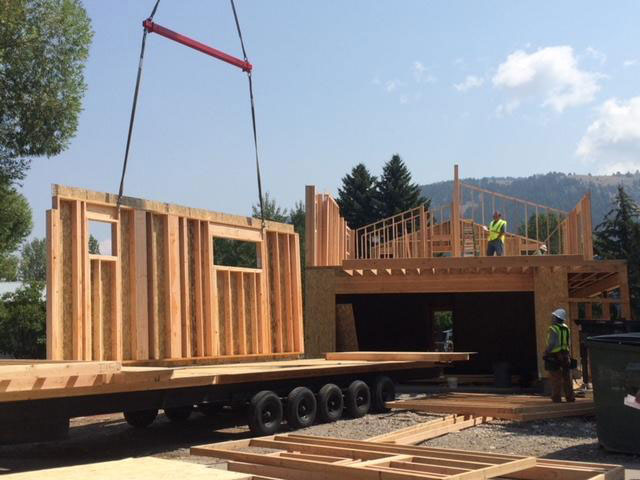 Structural Insulated Panels
SIP:
Made of exterior layers of 7/16" OSB skins with EPS foam core.
Panel thickness – 4-1/2", 6-1/2", and 8-1/4"
Made to work with dimensional lumber (fits between exterior skins)
Panel sizes 4'x8' up to 8'x24' (jumbo panels)
CNC cut package provides "pre-cut ready to assemble panels"
– Panels designed and pre-cut to fit in place
– Window and door rough openings cut out
– Raked walls and other angles and slopes pre-cut
All accessories required for assembly are provided
– Insulated connection splines
– Insulated LVL headers
– Spray foam
– Adhesive
– Screws
– Custom cut full width very top plate
Panels treated with borate to protect against fungus and insects
Custom Engineer stamped layouts and details for building permit application
Up to 8x more airtight than conventional framing reducing heat loss
Energy use reductions of up to 50%
Utility bill cost savings of 50-80%
CNC cut package has almost zero site waste
Reduce on site framing time but up to 50%
R-values meet or exceed min. code requirements and also count as continuous insulation layer eliminating the need for additional exterior layers of insulation
Great compliment to close-in Timber Frame wall systems
Heavy Timber
Timber Frame:
Materials – Solid Sawn Timber, Glulam, and Parallam (PSL)
Appearance grade and Structural grade
Wide variety of sizes and custom curved shapes
Custom Engineer stamped layouts and details for building permit application
Stronger and more durable
Structural and Architectural solution all in one
No other load bearing walls allows for increased design flexibility
Less jobsite waste
Increased fire protection
Uses less lumber than a tradition stick wall reducing environmental impact
Increase energy efficiency when using SIPs as insulation
Our products are sold through Retail Building Supply partners throughout Ontario and the Northeast US. If you can't find a provider nearby, give us a call and we'll work to bring our products closer to you!